We sat down with Asmo Tenhunen to talk about the merging of digital and physical in the wake of the release of KONE's DX class elevators that provide an immersive digital experience.
Elevators that are always connected to the cloud and can be programmed remotely are a triumph for KONE: a direct result of its ambitious emphasis on R&D and ground-level innovation.
Currently Head of Volume and Midrange Elevators at KONE, after almost twenty years at the company, Asmo is in the perfect position to tell us how KONE's commitment to R&D enables innovation across the organization.
Before we dive into Asmo's personal experiences and his take on KONE's R&D-oriented innovation culture, let's quickly remind ourselves why DX class elevators are so unique...
Meet DX class: next-level smart elevators
Imagine a smart elevator: an elevator that is always connected to the cloud and that can react and adapt to its surroundings to meet the ever-evolving needs of users.
Changing in function of the seasons and even of the time of day, this is an elevator that adapts to a wide range of scenarios.
While the idea of a smart elevator adjusting its own lighting may seem like something from science fiction, this is exactly what the DX class elevators promise (and deliver).
None of this would have been possible without KONE's commitment to R&D that crosses boundaries, borders, teams, and disciplines.
So Asmo, what makes DX class elevators so significant?
From where I'm standing, one of the key things is making built-in connectivity standard across the whole product lifecycle. When a customer buys an elevator from us, they are immediately given access to cutting-edge technology like DX, providing an immersive digital experience.
DX also allows us to create very user-specific solutions; each user has their own unique needs and DX allows us to customize the elevator without having to go in and change hardware all the time.
Can you talk about integration and innovation in more detail?
Embedded software is a big part of how we work and hardware and software are constantly combined in our daily work. We literally make 'iron move smoothly' with software: there is no clear delineation between hardware and software anymore.
IT platform integration is also important: how do we get all our digital products synced up, how do we connect the elevators to the cloud, etc.
When you see how KONE products are enhancing the people flow and how we are able to provide totally new kinds of digital solutions to make our customers' lives easier, your daily work feels truly meaningful.
Can you give an idea about the teams who have been working on DX class elevators?
Our Equipment R&D professionals are responsible for developing the DX class elevators and managing the phased global roll-out. Equipment R&D plays also a big role on the software side, creating the electronics system that forms the basis for connectivity.
Our "Digital Services" tribes own the connectivity, innovating all the digital services that can be brought into the picture. IT makes sure that connectivity delivers in the field.
The design function is also very important, as is ensuring that things work on the ground when it comes to production in places like China and India. Elevator design is essential to balancing the right mix of materials and features to evoke the desired atmosphere (something which KONE has been recognized for in numerous design awards).
It's not just an elevator or connectivity: it's both. And that is what makes projects like DX so innovative and exciting: we can tailor customer experiences like never before.
Can you describe the impact of DX class elevators on a global scale
We want to have DX class elevators on all the continents so that we can start learning from our customers in the field.
There are also big global differences in technology like phone operators so there needs to be a lot of collaboration and an end-to-end team mentality to ensure successful localization.
This is a product that needs to work everywhere, from China to India and Finland.
What about sustainability, how does that fit in?
Sustainability is at the core of everything we do, from providing a high level of energy efficiency as standard to continuously lowering our carbon footprint.
We're always looking for ways to improve and innovate in this space.
What kinds of future innovators is KONE looking for?
With such a wide field, there are lots of opportunities. And though hybrid expertise is important, you don't have to know everything.
Having transferable and interdisciplinary skills will stand you in good stead.
Any final words of wisdom on DX?
I am really proud of how the DX elevators have been received so far: we all came together to create something unique and share in the same story.
We all saw the collective value of working across silos to a joint goal, and we made a success of it.
So this is how you create an innovative product! Why not read more about KTI's role in driving digital transformation at KONE?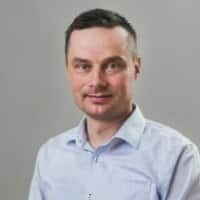 Asmo Tenhunen
Head of R&D portfolio & Release Management at KONE