One of our strategic targets is to be a leader in sustainability – not only in our own industry, but also beyond. We want to be the most trusted partner for our customers throughout their building life cycle and help them achieve their sustainability objectives, creating better urban environments. Our vision is to create the best people flow experience. In addition to the environmental aspects of our offering and operations, our sustainability focus areas include safety, quality, diversity and inclusion, as well as ethics and compliance. At KONE, sustainability is a source of innovation and a competitive advantage for us. Conducting business in a responsible way with good corporate governance supports us in creating long-term value for shareholders.
For the elevator and escalator industry, urbanization is an important megatrend and also an opportunity to help make cities better places to live. As today's cities account for 75% of global energy consumption and buildings constitute 40% of it, by providing eco-efficient solutions to buildings KONE can help reduce cities' impact to the environment. With breakthrough technologies such as the KONE MonoSpace® 500 DX and UltraRope®, a superlight hoisting rope, KONE is an industry pioneer in developing eco-efficient solutions.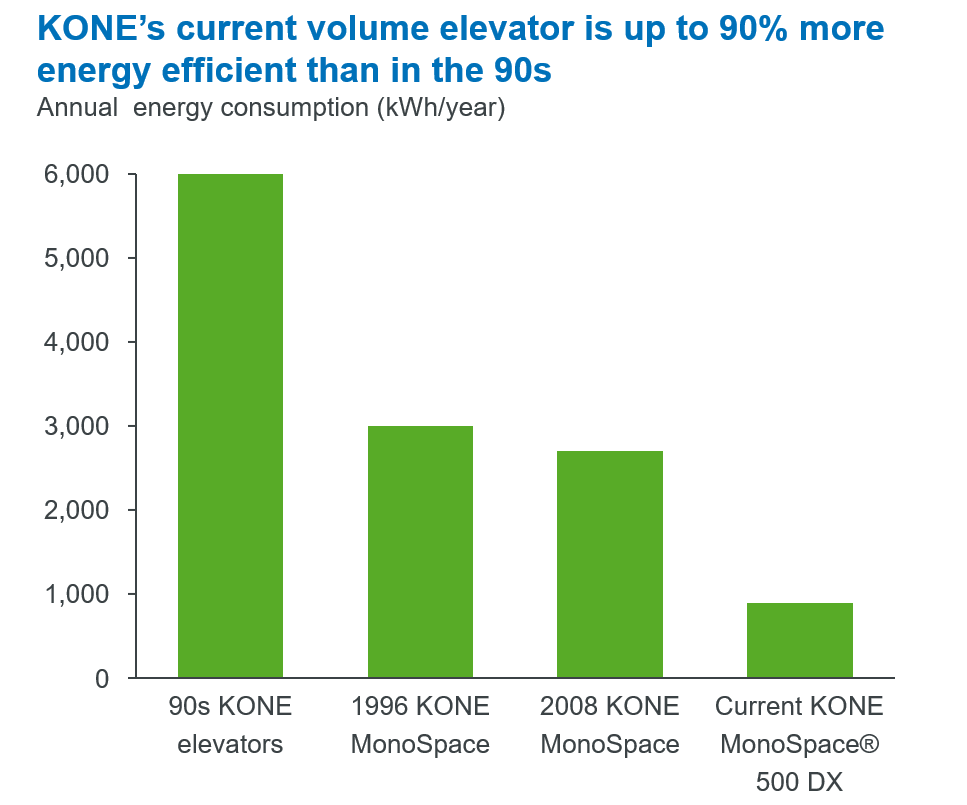 The installed base of elevators and escalators is aging rapidly, especially in Europe and North America. By modernizing elevators installed in 1985 or earlier with the best available technology, energy savings of up to 63% can be achieved (Source: Energy Efficiency of Elevators and Escalators (E4) study supported by the European Commission).
Read more in our Sustainability Report 2022


KONE Corporation has set science-based targets for significant reductions in its greenhouse gas (GHG) emissions by the year 2030. KONE's targets have been validated against the latest climate science by the Science Based Targets initiative (SBTi). KONE was the first to validate its science-based targets against the latest climate science in the elevator and escalator industry. Furthermore, KONE has pledged to have carbon neutral operations by 2030, with our manufacturing units reaching this target in 2024.

Sustainability reporting
KONE's sustainability reporting follows the Global Reporting Initiative's (GRI) guidelines. KONE's Sustainability Report 2022 was published in April 2023. KONE's operational greenhouse gas emissions and water consumption at KONE's manufacturing units disclosed in the report have been externally assured.
KONE's Annual Review 2022 also contains information on ESG topics, such as non-financial risks and risk management and KONE's reporting according to TCFD (Task Force on Climate-Related Financial Disclosures) guidelines.