Jumping from high-tech startup to changing an entire industry
A chat with KONE's new Head of Product Management Tiina Nieminen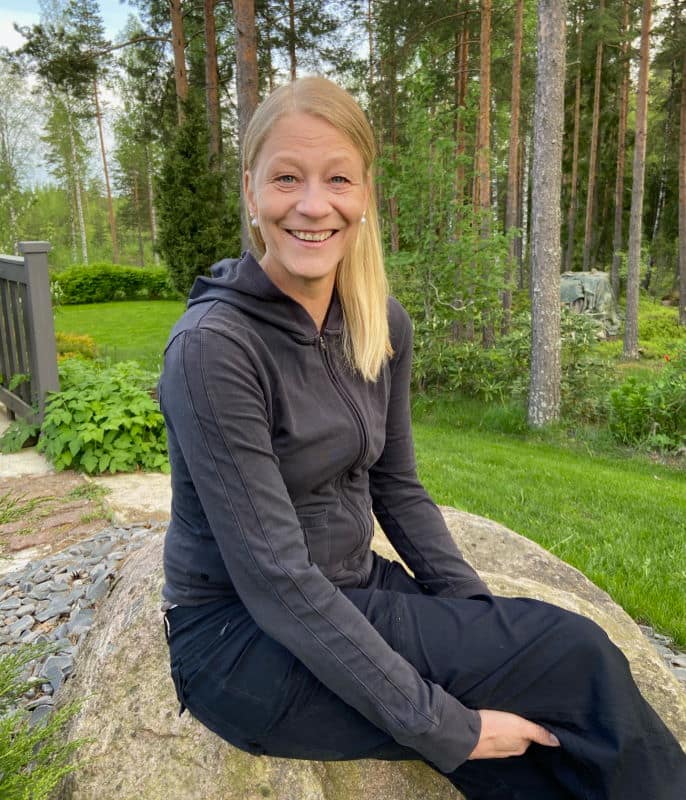 What does it take to jump from one deep-end to another? Tiina Nieminen knows. She's been doing it for most of her professional career.
Tiina is a product management professional who joined KONE in December 2020 as Head of Product Management in our Services and Solutions department. Before that, she was in the high-tech startup world at companies like Varjo, an advanced virtual and mixed reality device company. Her experience from both worlds – tech giants like Nokia & Microsoft, and in high-tech – have given her the stripes to help transform an entire industry and lead a large-scale competence-driven product organization.
We asked Tiina about her journey so far and why she decided to join KONE to lead our Product Management competence unit.
From the startup deep-end back to the big pool
I started my career in tech after completing an international business degree and having an initial interest in the technology industry. For me, what was, and still is exciting about tech is creating true value for the customers. Who are the technology enablers and what happens after the tech is created? How is it utilized in real life? How is it productized? How will it scale? How do you make it a business? That's why I got into product development.
Often 100-200 customers is not enough to have a profitable business, and this is why I became interested in how to scale for the masses and volumes. I quickly understood that this requires understanding the entire lifecycle of a product. So, I had to get my hands dirty and learn how to build products and services from scratch. I also had to code at one time.
What I learned was that the early stages are easy. Creating the vision is just 20% of the way to success. 80% is the actual hard work done on a daily basis for the product to take flight. I have followed this guiding principle and iterated my skills during my career. Now something new intrigues and challenges me.
For me, after a while in the high-tech startup world it becomes normal. It is fascinating to have the buzz around you and be in a niche part of the world; innovating with people on a global level on the most advanced future technologies. However, when reflecting on my work, I realized that the normal is not enough anymore. I unknowingly desired something that is even more challenging at this point in my career: changing an entire industry with a global impact on billions of people.
Motivated by solving global challenges and disrupting an industry
Entrepreneurial attitude is also ingrained in me. I treat everything I do as if it were my own business: with passion. You need to learn to be creative and tackle problems head on. Iterating every step of the way.
Moving to KONE was a difficult decision – perhaps the most difficult one in my career so far. But I discovered I had a thirst for new thinking and a need to disrupt an entire industry. Creating new things is invigorating, but changing an entire industry is hard. Leading change does not happen top down from a slidedeck. It is hard work with small and fast wins, which require change agents. So, I decided to take on this challenge and lead the product management of our KONE digital services.
In my first six months I have seen our drive to make change happen. We discuss challenges openly and consistently. And things that don't work are pinpointed, and there is a real will to improve. I believe in not failing fast, but learning fast to succeed sooner. This is the direction KONE is headed in and we are really "more than the elevator company you think you know."
Digital and physical by nature to enable People Flow
Everything we do at KONE Technology & Innovation unit (KTI) has a strong link to KONE's traditional elevator business – the physical. The KTI unit represents "the digital". Our ambition is to go beyond physical and create digital solutions that work in symbiosis with our physical products, and vice-versa. Our product management does not only take place within our Services & Solution department, but also across Research & Development and IT units, which make up KTI. User experience is at the core and creating a smooth phygital experience. Our Chief Technology Officer Maciej Kranz put it well in his blog on our vision when he said:
"We created this unique physical and digital culture where it's not us and them, but us and us. It's a huge competitive advantage, and others in the industry are only just catching up."
The phygital experience is the essence of enabling People Flow. It enables billions of people to move smoothly, safely, and effectively, with an accessible experience and positive interactions with both living and still objects in urban places globally. To achieve this kind of symbiosis, understanding our customers makes the difference. And that is where the advantage of having a competence-driven product organization shows its value. This is our vision and our direction.
Stay tuned for Part 2 of Tiina's interview, where she dives into how KONE is changing to a competence lead organization.
Learn more about KONE's technology and innovation teams careers and join Tiina in moving one billion people every day!