Onboard the people flow experience
Yi Min Shi, Design Manager of KONE China, who has witnessed how design has evolved over the past 14 years at KONE and in general. He leads the design team that serves the Chinese market, which is one of KONE's growing key markets. The design language and customer needs are different in the Asian market and requires a special touch that Yi Min's team is able to respond to. Get to know Yi Min's story and how the design team in China has evolved.
Yi Min's People Flow - a seamless experience
It's 7' o'clock in the morning in ChangZhou city (2nd tier urban city in China, a city of 5,28 million people), I grab some breakfast and say see you later to my wife and 10-year old son. Then I jump on my e-scooter and head to the train station and make my way to Kunshan on a high-speed train.
Yep, it's an effort to travel 3 hours a day, but meeting people at the office makes my work interesting and fulfilling. It's a choice I've made to improve my work-life balance. I'm happy that at KONE I don't need to make the decision to move closer to the office and leave my home city. I actually enjoy traveling as I'm a podcast enthusiast. Time goes by quickly while listening to discussions about interesting topics and taking the time for professional development - right now on top of my list is e.g. the UX Breakfast Podcast.
Unexpected career paths
My first criteria for university studies was that it would involve as little mathematics as possible. I'm not really a math guru. But like always in life, what you try to avoid you end up doing in one way or the other.
I majored in industrial design and all of a sudden I realized my days were filled with 2D drawings, parametric modeling,and data visualization, which is all about math. To my surprise, I grew to like it a lot.
After my studies, I worked in a Taiwanese company for two and half years. It was all about concept design, and I never got to see the final product launched. I started looking for new opportunities in companies where I could see the actual end product.
Being able to see the whole cycle from concept design to releasing the product was also one of the key reasons I decided to join KONE 14 years ago.
Founding the design team in China
I was the second designer in the China design team in 2007. Design at the heart of KONE's business has had a massive impact on my personal career.
The role of design has changed dramatically for the positive. Fellow designers might remember that visual design was a thing for 40 years. Just like in design communities across the globe, it took us ten years to make our way to the core of our business. Today it's a norm and understood here that design is much more than visual or graphic - it's a mindset. We're still on this constantly evolving design journey and this has been mirrored in my own, and my team members' professional growth.
Jump in a KONE elevator and just imagine the different design elements needed to create a seamless experience. Our design opportunities are quite limitless, and the opportunity to create is vast: anything from product design, user experience (UX) and user interface (UI), lighting design, to service and experience design, you name it.
Global Design Community at KONE
It is a privilege to be part of the global design community at KONE. However, the local market needs the cultural touch. What works well in Delhi, India, or Helsinki, Finland doesn't necessarily work in Beijing, China. We can combine our strong foundation and collaborate across borders to achieve unique design innovations and smooth people flow.
A great example of this is our digital design coupled with the so-called China speed; I have to admit we are fast at catering to the local digital needs. After that, we help rolling them out in other markets, as seen applicable. One gives and one gets - there is no room for silos. We help each other to see what the customer's needs are.
Traveling and learning about different cultures has always been close to my heart and I've found my natural working habitat at KONE. I'm constantly surrounded by like-minded colleagues. We are curious minds!
I'm in my natural habitat when I get to work with my designer colleagues all over the world as I've always been interested in traveling and learning about different cultures. I find it inspiring to hear different perspectives and share my everyday experience. While we come from various backgrounds, I still find many of my design colleagues at KONE are like minded.
We help each other to understand the customer's needs. This mindset extends to all different levels, project teams, engineers. Designers need to be at the forefront of understanding what are the trends and needs out in the market - we're curious minds and interpreters internally.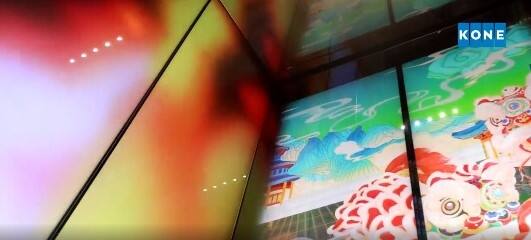 Photo: DX Class elevator with Lunar new year theme created by China Design team.
Physical and Digital by Nature
For me, physical and digital by nature reflects on the overall KONE experience we want to create. Rather than enjoying a ride on a moving staircase, we bring the experiment dimension to new lighting, screens, interactive features, safety and eco-friendliness. KONE DX Elevator is an example of the magic that happens when the physical, and digital design elements come together - an elevator experience that is on a new level. And yet, this is only the beginning of a new experience era for our products!