According to U.S. Census Bureau data, renters outnumber owners in Chicago. Instead of putting down roots, people are keeping their options open.
Many factors influence such housing decisions. Once considered both a rite of passage and a sound financial investment, housing today has morphed into a lifestyle choice.
"Twenty years ago, nobody lived downtown," says Michael Gerhardt, real estate broker/advisor for ReMax in Chicago. "Businesses catered to the suburban train commuter. By 6 p.m., everything downtown was closed."
As Aristotle once postulated, nature hates a vacuum. Chicago was ripe for the kind of development that allows people to enjoy city life and make it easier to get to work. Today, the city's downtown skyline reflects a new reality.
Apartments in 132 high-rise towers represent 40 percent of the city's housing units. Bolstered by redesign of the Navy Pier complex in the late 1990s and creation of Millennium Park in 2004, Chicago has welcomed an influx of corporate headquarters and tech companies, including Sprout Social, Morningstar and Boeing.
Echoing a trend in which a vast majority of millennials (88 percent, according to the Pew Research Center) choose to live in metropolitan areas, waves of university graduates now call downtown Chicago home. Rejecting suburbia and long commutes, they have opted instead for a vibrant urban experience – and seamless transitions due to a nomadic lifestyle.
No strings attached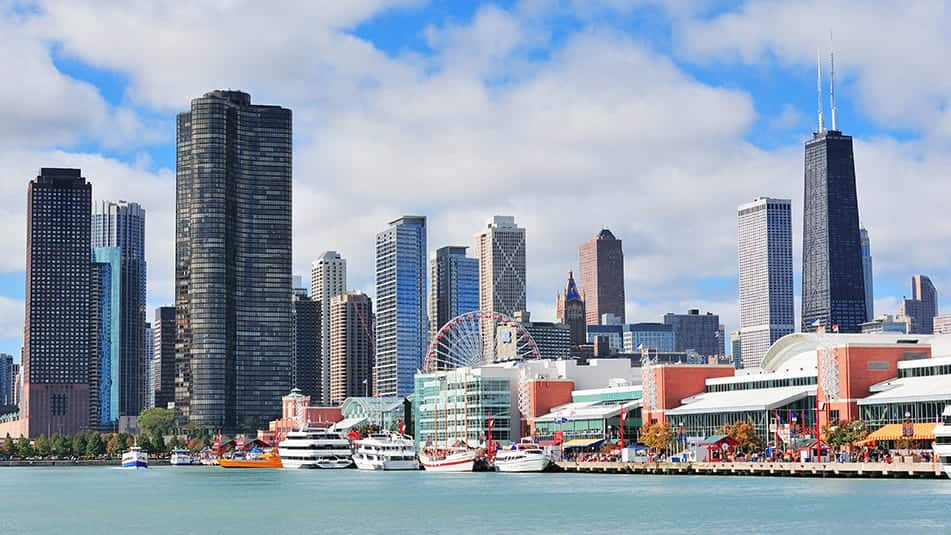 "Apartments are easier to get in and out of," says Lauren Zemboch, real estate broker with Baird & Warner. "A lot of people move in and out; they don't know how long they'll be here."
Move-in-ready and high-end units sweeten the deal. "There are a lot of gorgeous rentals," Zemboch adds. "And yes, the rent is high, but there are unbelievable amenities." State-of-the-art gyms eliminate the need for memberships elsewhere; swimming pools and private party rooms expand livable space. Downtown may be all business by day, but come 5 p.m. and weekends, it's all about the city's world-class museums, lush parks and lakeshore, and dynamic nightlife.
In practical terms, renters sidestep property tax, interest and maintenance costs while gaining unmatched mobility. And in Chicago, a global airport hub and efficient public transportation meet essential needs of today's renters, whether they're millennials or retirees.
For many, the choice to rent reflects the desire for a lighter footprint. "A lot of people are realizing they don't want a house in the suburbs, a big yard, dogs and cars," Gerhardt says. "They don't want all that stuff. They want a more modern lifestyle."