Young Talent Stories: Designing my own career path in KONE's Design Team
Nina Kuitunen is a material engineering professional from Finland. Cooperation with KONE's Design Team and the company culture have given a pleasant start to Nina's career. Passionate about sustainability, Nina feels extremely happy that she can share her passion and research this topic in her work.
From graduate to KONE employee: How it all started
The kickstart to my professional career happened years ago when I applied to high school with an emphasis on mathematics and natural sciences. Engineering studies at Tampere University of Technology were a natural continuum.
In spring 2020 I saw an open position where company "X" was looking for a creative engineer. This sparked my interest, even though the company was anonymous due to the role being under a staffing company. I wanted to learn more and I remember being surprised to hear that it was with KONE. I hadn't thought about working in the elevator industry before. I was impressed with KONE's brand, which to me exuded quality and reliability. I also thought that work experience at KONE would be a valuable asset for my future career.
I remember my first interview with KONE's Design Director Visa Rauta. He was open about the fact that a clear role did not exist yet, but that it would be tailored for the right talent. He offered me an opportunity to grow – an exciting opportunity I wanted to seize. I realized I needed to be open-minded and have a proactive mindset, which are the most important traits to have.
I joined KONE with a curious mind. As a new employee kick-starting your professional career, you face uncertainties. During the first days, I noticed I'm not alone – I would always get support from my colleagues. For example, when I'm working on challenging projects, my team lead always calls me and ensures that I'm able to get as much support as I need.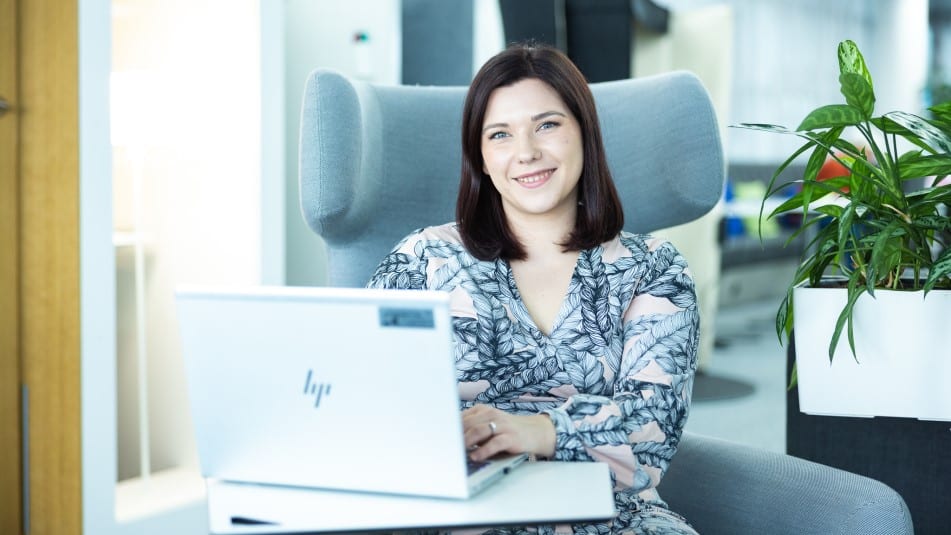 Starting at KONE during a pandemic
I started at KONE in March 2020. One week later, the pandemic hit Finland and we pivoted to remote working. Luckily, KONE had great online learning content for onboarding which helped me to get a bigger picture about the global organization, for example.
Currently, I work as a material specialist in the industrial design team. Strong stakeholder cooperation is the core of my work. I work in closely with sourcing, material suppliers, KONE reliability laboratory, and the quality team. This is a natural place for me as I enjoy a role where I can be a link between stakeholders and functions.
In my role, I work with deco materials that are used inside the elevator, signalization devices, or landing components. Together with my colleagues, we find new ways to manufacture our products and new materials to use. Our common goal is to find and use the best materials that fulfill both visual and technical requirements and needs.
I've learnt a lot since I started; new ways of working and work task organization come to mind. I'm able to keep my professional knowledge up to date, and I can work with professionals from different fields. For a young professional like me, this is a good work environment to grow and learn something new every day.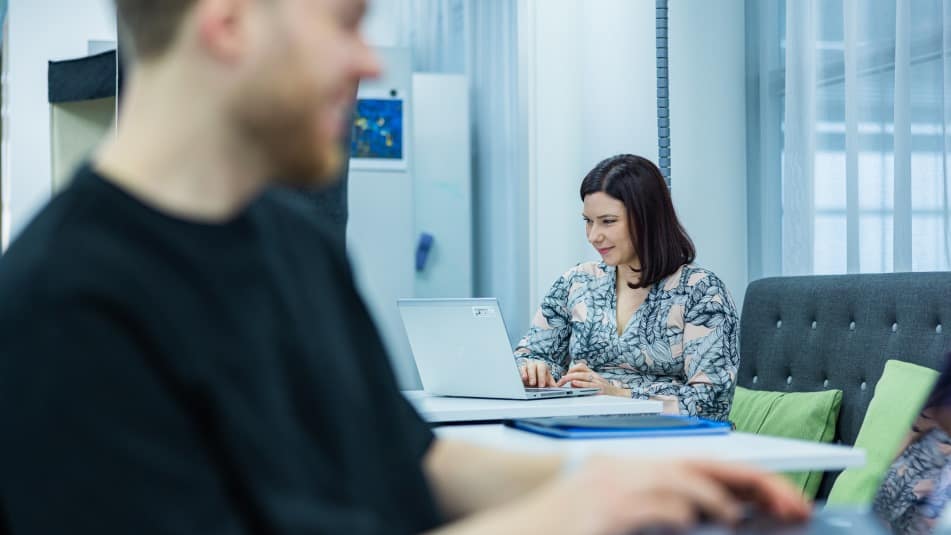 Relaxed atmosphere within a small team
Someone might say that starting a job in a big global organization can be a marathon. It might take some time to learn and understand the organizational structure and to find and get to know the right people.
Personally, I'm happy I chose KONE. I'm impressed by how the company takes care of us. We have, for example, great healthcare services and a well-being app that encourages employees to take breaks regularly. And communication between the different teams is effective and smooth.
My team is quite small and the atmosphere is relaxed. You can be yourself, and it's easy to trust one another. We are still mostly remote, but we try to see each other regularly. We have created our own ground rules and, for example, we agree when we will meet in the office. These days, encounters with colleagues bring a smile on my face. I like working remotely, but to me, spending a lunch break with your team, for example, feels special.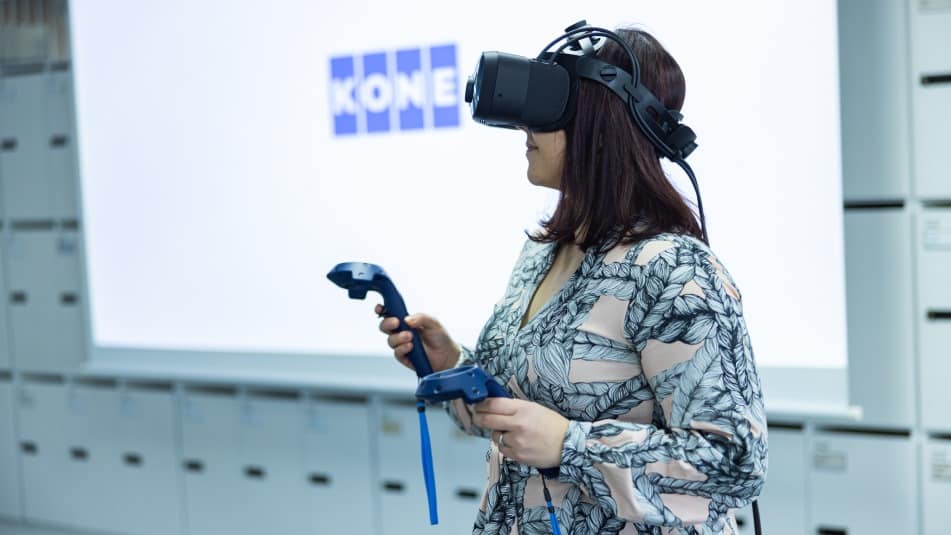 Sustainable design
It has been nice to see how enthusiastic our employees' are about topics like urbanization or innovation and how, for example, we are connecting robots to elevators using our API technology.
Sustainability is one of our strategic themes I'm interested in. It is also part of our culture and one of our core principles. Our objective is to be a leader in sustainability – not only in our own industry but also beyond. We want to help our customers make cities better places to live and be their most trusted partner throughout their building life cycle.
Sustainability shows in our everyday actions.nThe values and objectives of sustainable development clearly guide our work. When you are interested in sustainability or another important topic that connects you and the company you can spend some of your working hours to do research and take the topic forward.
One of the biggest projects I'm currently working on is, in fact, around sustainability. I get to immerse myself in it and do research about sustainable design and materials – something I'm passionate about.
Read more KONE Young Talent stories and get to know more about KONE Technology & Innovation careers.