From designing buildings to designing urban life
A chat with Padmini Gorthi, Head of Design in KONE India
Meet Padmini Gorthi, our Head of Design & Innovation Manager in KONE India. An architect with a Master's Degree in Urban Design and an MBA in Project Management, Padmini has worked at KONE since 2012, and was one of the first members of our design team in Chennai, India. Now the growing team has 10+ designers with various backgrounds and skill sets.
Design is an organic part of Padmini's life. She comes from a family of creatives: her father was a film writer and director, and her brothers are musicians. She is a cherished daughter and a proud mother. She's brave enough to ask for help, and knows she doesn't need to carry the world on her shoulders. Her family encouraged her to pursue anything that makes her happy - be that "needing to read like I need to breathe", training in Indian classical dances, or cooking while listening to music. She loves to write and has won international awards for short story and poetry writing.
We talked with Padmini about her journey from architecture to designing urban life at KONE with customer experience at the core, and the impact on both the Indian market and globally.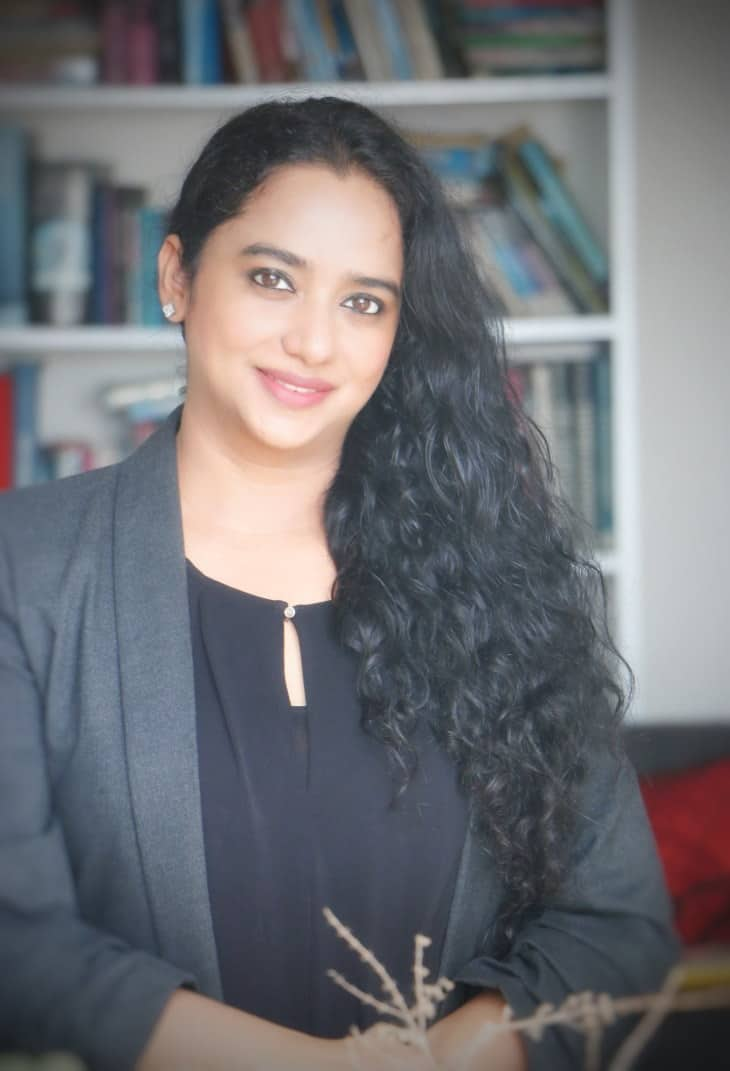 Road to becoming a designer of urban life
I took up architecture organically, but somewhat to the surprise of my teachers. As one of the top students, it was expected that I would go and study to become an engineer or medical professional. However, I wanted to dream, fly, and to create. I'm not an organized planner. I go with my gut instinct. I was interested in architecture, but also had a desire to be connected to the urban world. So, I followed my passion, encouraged by my family.
After graduating, I started as a Junior Architect and gradually went on to work in India, US, and the Middle East, expanding my experience and horizons both as an architect and urban designer. After a few years of working abroad, my husband (also an architect) and I decided to move back to India as a family to settle down. At this point I also studied design management and research.
Nine years ago, I was looking for a change to move away from hardcore architecture and explore new opportunities. I was looking for a multinational organization where I could find a supportive atmosphere and use my skills - with a broader perspective.
What intrigued me about KONE was the opportunity to combine tech and design in the urban environment. I got really excited about the work of the global design team, which seemed like a perfect fit for me - and it has turned out to be so. The work my team and I are doing is making a difference and contributing to how urban environments are evolving and helping people lead their lives. And this is motivating to me.
Another interesting aspect was the opportunity and trust to question the system, to disrupt and create new things, with colleagues who support each other. When I first joined KONE India, designers were still getting integrated into the culture. I was one of the early ones and got to be part of making the change to understanding design thinking and what difference it could bring to exceeding our customers' experience. Now, designers are heard, respected, and know that our work is making a difference.
Life as a designer at KONE India
When the physical and digital (world) go hand in hand, it is a very interesting environment to work in. You have the chance to see and learn so much. It is a culture of exploration, but there is room for innovation. One element for this is that we take ownership of our own understanding and become close to our customer's needs, by doing our own user research to build up our collective insights.
Our team is multifunctional, consisting of designers from different walks of life: industrial designers, UX designers, rendering designers, and service designers. And we all have different specializations and talent: architecture, engineering, fine arts, psychology, product design etc. Usually you see these jobs exist in their own silos. At KONE, we integrate them. We believe it's important for everyone to join in different types of work and be involved in workshops with stakeholders and customers to contribute collectively and constructively.
We also have a strong and a trustful relationship with our KONE global design team. Although we work autonomously on a local level, in the beginning we needed more support. As our team has grown over the years, we now collaborate and support each other on both local and global challenges together.
Our design community acts as a "family". We share the attitude of continuous learning and nurture a culture where everyone is open to sharing their knowledge with each other and respect each other's expertise. We're a strong design team, not just a support function. It's a unique environment where you get to do work ranging from user research, customer co-creation, designing, prototyping, and taking the end product to market, and support beyond that.
Empowerment as an important leadership tool
I often tell my team that you should be able to smile on the way to work. Do the things you are passionate about. You can learn technical stuff, but happiness and joy in the work we do is the biggest driver.
Human connection and communication face to face is important to me. I encourage my team to get up from the desk and walk over to their colleagues to discuss topics with them in person, not just over email. I believe that teams should feel like your family and gel with each other. Building trust and a safe environment is key to creating success together.
I'm also an avid supporter of helping women grow professionally. The number of women working in the professional environment has been growing steadily over the years. Providing the right environment and encouragement is critical for retaining female talent. When I started working in the architecture and building construction industry, I was predominantly surrounded by men. This is one reason I am passionate about encouraging women in their careers.
I am also a founding and core member of our ITEC Women's Talent Council in our unit (ITEC = KONE India Technology and Engineering Center). We kick started this initiative in 2019 with a design thinking workshop with over 40 female employees in our unit and a few global representatives. From our ideation came four areas that we saw contributing to support ITEC women's careers: Inspiration, Wellbeing, Development, and Engagement. Then, 'ITEC Women's Talent Council' was created to drive the topics forward. We now have a council made of nine women with two women responsible for each area, and I am honored to be the Chairperson of this council.
In our first year of operation, in 2020, we wanted to ensure we meet on a regular basis, and plan our initiatives for the whole year, and continue to go forward in 2021. We've received great feedback as women have had the opportunity to encourage each other on their own learning journeys. Read more about inclusion as a driver of innovation at KONE India and career journeys of some of our female tech professionals.
I am thankful to be working in an organization with an environment that encourages radical thinking and new initiatives. This would not have been possible without the absolute trust and encouragement from our colleagues and management. I will always be grateful for the evolving and empowering journey I continue to have at KONE.
Stay tuned for Padmini's second blog, where she shares KONE India's design journey and how the design team localized products through telling culture design stories.
Read more about KONE India and KONE Technology & Innovation here.