Text: Lakshmi Sivadas
From the LA Kings' winning the Stanley Cup in 2012 to Michael Jackson's memorial service in 2009, or that fact that it has been the venue of the Grammy awards for twelve years, the Staples Center in Los Angeles has played host to some of the greatest moments in sporting and entertainment history. Add to this the fact that it is also home to four major professional sports franchises including the Lakers and Clippers, and it isn't hard to guess why this multi-purpose arena holds pride of place in the hearts and minds of the people of Los Angeles.
Established in 1999, the events showcased at the Staples Center draw in a staggering 4 million people every year. And one of the many factors that have helped cement the arena's success is the focus placed on visitor comfort and safety, especially when it comes to the installation of escalators and elevators.
"Being LA's number 1 entertainment venue, we host over 250 events and have over 20,000 guests visiting the center at any time," says Bill Pottorff, vice president – engineering at AEG Staples, the company that operates the Staples Center. "The eyes of the world are on us, and so it's vital to assure the safety and reliability of the vertical transport equipment."
Handling massive capacities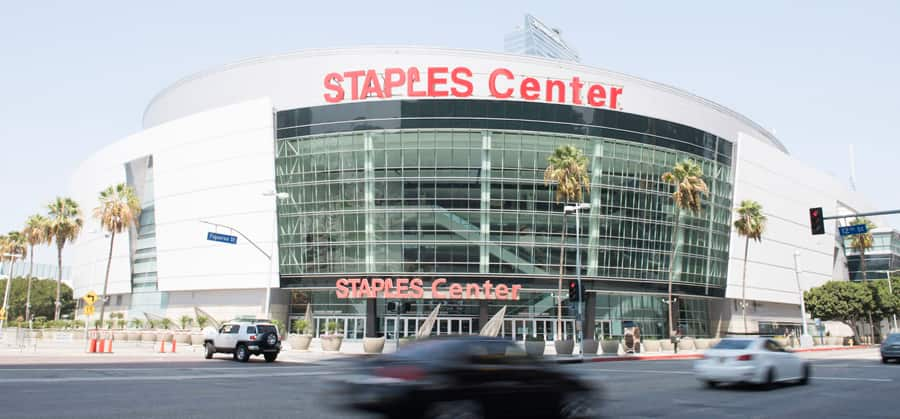 Which is why we were brought in to design and provide the best solutions. KONE's decades of experience were soon put to the test. After all, providing efficient elevator and escalator solutions for sporting venues like Staples is very different from installing them in buildings and cruise ships. The sheer number of people who gather for the various events makes it essential that logistics and transportation services be tough enough and fast enough to handle the pressure.
"Everything happens all at once here, unlike a museum or a cruise line," explains KONE's Dennis Vitt, primary service mechanic for the Staples Center. "Your crowds are completely different as they don't saunter around looking at exhibits. They are hyped up because it's either a sporting event or a concert happening here. The schedule of events is almost non-stop as well and therefore the equipment undergoes tremendous pressure every day."
That's not all. The escalator and elevator solutions used at the Staples Center revolve around one major aspect – the flow of people in the arena. In the case of most other buildings, when equipment breaks down, there is downtime until spare parts are received and repairs are begun. However, for a facility like Staples, any amount of downtime can severely impact operations, leading to thousands of disgruntled guests. Ensuring minimal breakdowns was essential for smooth operations.
Keeping equipment in peak condition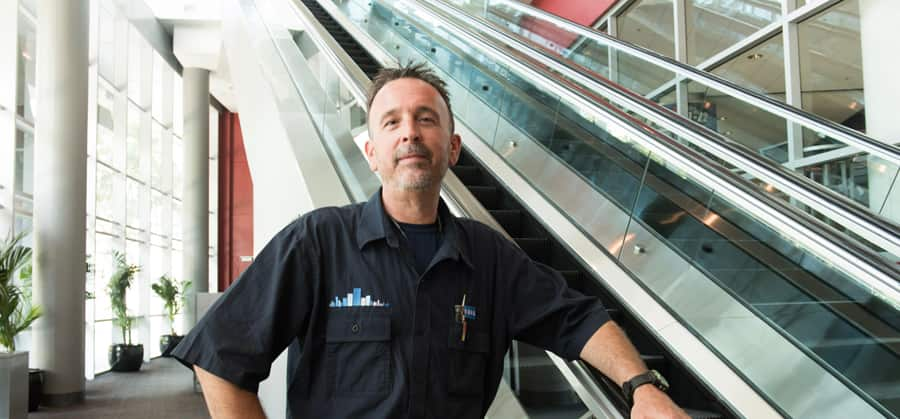 "During the season, you can go thirty days in a row with an event every day of the week. On the weekends, you can have hockey in the morning and basketball in the evening, followed by a concert the next day," explains Vitt, "There's never a day where it's all right to have a unit down."
Preventive maintenance is therefore the buzzword to help avert major breakdowns at the arena. For this, the Staples Center relies heavily on regular maintenance to spot potential breakdowns.
For instance, KONE Online is used to provide customers with online access to performance history details and the ability to monitor service requests. In the event of equipment needing repair, we proactively install new components to help extend the life cycle of the equipment.
"It is important to conduct routine checks on escalators and elevators every day. The equipment gets beat up and it's crucial to spot a repair or breakdown even before it happens," says Vitt. "Unlike other facilities, we have every part to rebuild an elevator out here and we don't need to wait for spare parts to begin repairs. We stop at nothing to keep the elevators running for every event."
Our extensive experience in providing smooth people flow solutions was also used to install equipment that would ensure that people would be able to travel from point A to point B safely and quickly.
"KONE designed the solution to ensure that our guests can move around the facility in a secure manner toward their seating areas," explains Pottorff. With all of this, we have ensured that the Staples Center continues to deliver on its promise to be the best sporting and entertainment center in the industry.