"Long ago architecture was defined by the local climate, but today: not so much," says David Malott, founder and CEO, AI SpaceFactory. "But we'll get back to that. Buildings will orient appropriately to the sun, such as being oriented north-south in the tropics and east-west closer to the meridians. In cold climates we'll see compact shapes to retain the heat. It all starts with geometry."
Once operational, buildings will generate power through solar panels, cool using thermal chimneys and use rainwater to flush toilets – whatever is appropriate for their location. The IoT will make it possible to greatly increase efficiency.
"Technology will allow buildings to respond to changes in the environment in real time," Malott continues. "If the sun goes behind clouds or you have a local microburst, the building will be able to respond instantaneously before the temperature drops. Sensors will detect if all the desks are empty because everyone is in a meeting and the climate control system will react."
Working in a garden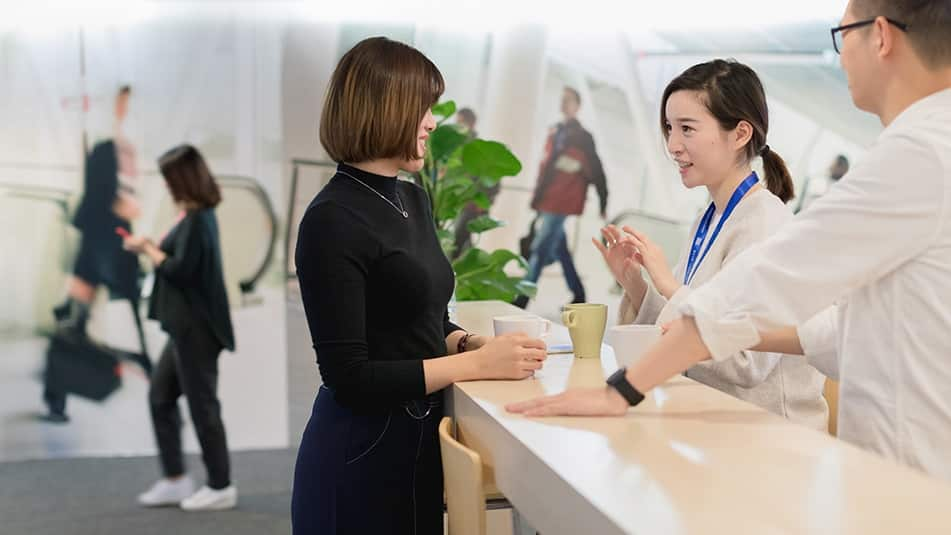 Commercial buildings have been at the forefront of the green revolution, driven by government regulations and demands from corporate tenants. The office of the future will be green in more ways than one. Efficiency, sustainability and green spaces will be core features of our future offices. Buildings' life cycles will be defined by circular economy principles: how the building is constructed, used and what happens to its materials at the end of its life.
Yet a green office doesn't mean just sustainability. Increasingly, green is meant quite literally.
"I am very interested in the concept of Biophilia, the idea there is a natural, instinctive bond between human beings and the natural world. This has been recognized as crucial in the design of workspaces, due to the impact of greenery on productivity and creativity," says Carlo Ratti, architect, director of the MIT Senseable City Lab and founding partner of Carlo Ratti Associati design office.
Already offices are being inundated with potted plants and green walls, but in the future the natural environment will be a normal part of our working life. A popular trend today is including greenery even on buildings. When done properly, the same concept can even be applied on our future skyscrapers.
"Life began in little puddles and pockets. Life clings to these areas," Malott points out. "You can do the same thing in buildings and break the glass box to create cracks for life to thrive. This is bringing people and nature together. It is like you are inside and outside at the same time."
Efficient operations
The efficient movement of people in urban environments will also be extremely important. Escalators and elevators have been increasing energy efficiency for a long time and will only improve in the future. Regenerative drives on elevators could produce energy while heat generated from equipment could be recycled. The IoT and building management systems will make sure it is all working smoothly.
"Elevators will be more advanced and part of the IoT platform," says Claire Penny, global industry leader – Cognitive IoT for Buildings at IBM. "Collecting, analyzing and acting upon operational data will maximize efficiency and ensure the building is operating properly."
This sounds well and good for new buildings constructed in the future, but what about all the buildings we currently have?
"Yes, of course you can use the IoT to increase efficiency in modernization projects," Penny says. "You need to understand the infrastructure and how to use the platform. Even something as simple as replacing light bulbs with smart LEDs can give you personalized light levels and much lower energy usage."
This story was originally published on April 6, 2018. For more insights on the future of buildings click here.